Warranty Policy
WHAT THE WARRANTY COVERS?
HOTENDA warrants its products to the purchaser against manufacturing defects in material or workmanship for a period as specified under the enclosed Product Warranty Matrix:
Product Warranty Matrix
| | | | |
| --- | --- | --- | --- |
| Products | 2years | 3 years | 5 years |
| All HOTENDA Products | | √ | |
| LED Chips | | | √ |
| LED Drivers | | √ | |
| LED Aluminum Housing | | | √ |
| LED Components (Plastic Covers, Base,etc.) | | | √ |
This Warranty is further conditioned on the purchaser contacting HOTENDA during the warranty period between normal business hours to review issue and initiate the Return Material Authorization (RMA) process.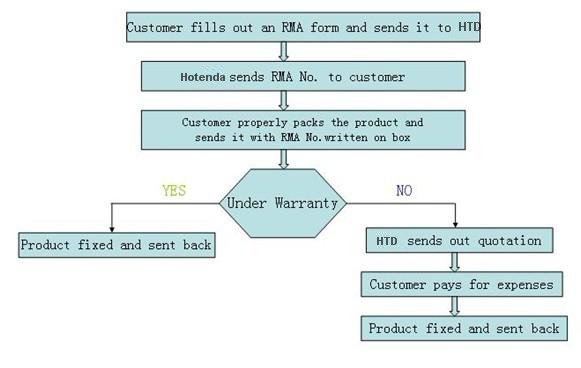 Should any product need to be repaired or replaced, whether or not the warranty period is still valid, please fill out an RMA Request Form to be assigned an RMA number. The RMA number that has been issued can be used to check
the status of your products. Customers need to provide the following information on the RMA Request Form:
Company name, address, contact person, telephone, fax, email, product number and description of how the product
was defective or damaged.
HOTENDA's technical support department will assign a RMA number once they have received your RMA request form.
All products must be return within 30 days of when the RMA number is assigned. A copy of an original invoice number and receipt must be attached and brief description of how the product is defective. Please do not ship out merchandise to be returned without getting an RMA number first. Note: HOTENDA has the right not to ship back any return items without an RMA number. HOTENDA technical support will test all products according to your description. But if within testing HOTENDA finds that the product is not defective we will charge for testing and shipping fees.
EXCLUSION:
1. Fail as a result of neglect, mistake, misuse, alteration, or that is improperly installed and implemented. This includes but is not limited to: improper wiring, installation under improper and nonapproved operating environments such as temperature, humidity or voltage conditions; improper installation using components that are not approved or are not HOTENDA manufactured products.
2. Cosmetic damage or damage due to acts of God, accident, abuse, negligence, commercial use, or modification of,
or to any part of the Product.
3. Transfer of the product to someone other than the original consumer purchaser.
WHAT YOU MUST DO TO ENFORCE WARRANTY?
To obtain warranty service and shipping information call +86 755 8379 4354,
E-mail: admin@hotenda.com or contact our sales who contact with you directly.
NOTE:
Be sure to provide proof of purchase in the form of a bill of sale or receipted invoice which is evidence that the Product is within the warranty period to obtain warranty service.
You must pay any postage, shipping charges, insurance costs and other expense to return the products to HOTENDA Tech CO.,China. however, if necessary repairs are covered by the warranty, company will pay the return shipping charges to any destination.
"Warranty Period" will begin at the date of original Product purchase from either HOTENDA, or an authorized HOTENDA Distributor/Dealer. Ways calculating "Warranty Period" :about the products were purchased,its warranty
time will eventually start from the date when they are sold. However, about this calculation, the maximum period
between the date when products were purchased and the date when they are sold shall not exceed six months,
or rather the warranty time shall not exceed maximum time, 42 months.